Hibiscus Afternoon
by jojo sabalvaro tan
24" x 48", acrylic on canvas
My painting above was painted for our pied a terre in downtown Chicago. I decorated the space in South Pacific/South East Asian themes so that anyone who walks in gets an immediate feeling of being on vacation in Bali or Tahiti. For this painting, I tried to channel Matisse, particularly his paper cutouts because I liked the juxtaposition of solid colors that played harmoniously with each other in his work.
Henri Matisse (1869-1954), a French painter and sculptor, and later a paper artist is known for his love of color. Matisse was the leader of the style of les Fauves (French for "the wild beasts"), which emphasized painterly qualities and strong color as opposed to the more representational and realistic values in Impressionism. Heavily influenced by Post-impressionists
Paul Cézanne, Gauguin and Van Gogh, and also by Japanese art, Matisse made color a crucial element of his work, using bold vibrant colors in his canvasses..
Among my favorites of Matisse's oil paintings are his Odaliques paintings, mainly because of the oriental/eastern influences and the colors. I am drawn to paintings of women, as depicted by many Impressionist painters in their natural form, showing them in rounded shapes and protruding bellies. Matisse is a painter that celebrated women and portrayed them as nurturing and welcoming, true to his principle that 'Art is Life."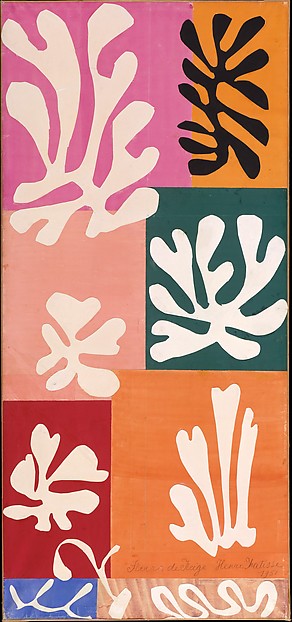 Snow Flowers
Henri Matisse
(French, Le Cateau-Cambrésis 1869–1954 Nice)
From MOMA online
The above artwork is an example of Matisse's paper cutout art. The book Jazz was one of Matisse's first effort in employing paper cut-outs in his work. At this time, ravaged with cancer, he could not tackle painting as well as before, so he used colored paper as his paint. His paper cutouts (gouaches decoupes) featured lively multicolor forms are both abstract and figurative. These paper cutouts would be among the most popular and critically aclaimed works of Henri Matisse.
The Altar of Chapelle du Rosaire de Vance also known as the Matisse Church
The Chapelle du Rosaire de Vence is another favorite of mine. It was designed, decorated and worked on by Matisse when he already was in a wheelchair. It is stark in its simplicity but a space that invites prayer and contemplation. In this church you are witness to Matisse's deep faith. He considered this work his masterpiece. One of these days, I hope to see it in person.
Detail from Hibiscus Afternoon
Acrylic by jojo sabalvaro tan
I read that Matisse would paint a background color in gouache to a board, canvas or paper and temporarily attach the paper cutouts with a pin and not adhere them permanently until he is absolutely sure of the placement and effect. This could take months. I myself also love working with paper and have made several paper collages and paper mosaics, but this particular painting, although influenced by Matisse's paper cutouts, is done entirely in acrylics. At 24" x 48", it is one of the largest paintings I tackled. Painting this piece, I imagined Matisse on his wheelchair cutting out paper with his scissors, "painting with scissors", not giving up on his art in spite of the limitations imposed by his illness. Instead. he reinvented himself and got a new leash on life. He is truly inspirational.
For the complete retrospective and information on Henri Matisse and his works, please visit http://www.henri-matisse.net/index.html
You study, you learn, but you guard the original naivete. It has to be within you, as desire for drink is within the drunkard or love is within the lover.